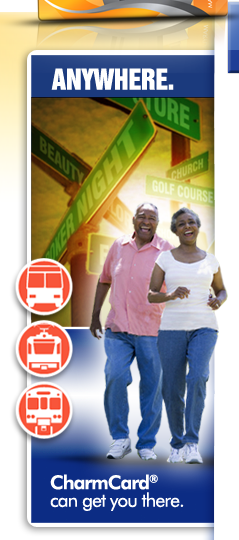 Customers who qualify must be:
Seniors, 65 years and older -OR-
Permanent Disabled, with valid MTA identification
Reduced Fare CharmCard®s are not available to Temporary Disabled customers.
The card may be used to ride at reduced fare on:
MTA Local Bus
MTA Light Rail
MTA Metro Subway
Washington, DC wherever the SmarTrip logo is displayed.

Including:
- Prince George's County, TheBus
- Montgomery County; RIDE ON
- Washington Metropolitan Area Transit Authority; WMATA
- Prince William County, Manassas and Manassas Park; PRTC
- Loudoun County; Loudoun Commuter Bus Service
- Fairfax County; Fairfax Connector
- Fairfax City; CUE
- DC Circulator
- Alexandria Transit Company; DASH
- Arlington Transit; ART
Load your card with:
Up to $200 in stored transit value
1-Day Pass
30-Day Pass
It works like a Debit Card or Gift Card, and may be reloaded
Your card is registered when purchased for balance protection. If lost, damaged or stolen:
Notify the Regional Customer Service Center call 1-888-SmarTrip (1-888-762-7874).
Value on your card at the time reported, minus a card replacement fee, will be refunded to you.
Replacement card will be mailed to you.
To purchase a card come in person to:
Reduced Fare Certification Office
6 Saint Paul Street, 1st Floor
Baltimore, MD 21202
Monday – Thursday 8:30 AM - 4:00 PM
Closed Fridays
Staff will be available to explain how the card works
Appointments are required for all in-person visits
Senior Citizen must present:
Valid government photo ID, with proof of age
$2.00 cash to purchase (card is pre-loaded with $2.00 value)
Permanent Disabled customers must present:
MTA issued Disability ID
$2.00 cash to purchase (card is pre-loaded with $2.00 value)
If your card is lost, damaged or stolen:
Call the phone number on the back of the card.
1-888-SmarTrip (1-888-762-7874).
Questions about using your card?
Click "How to Use Your Card" link above.